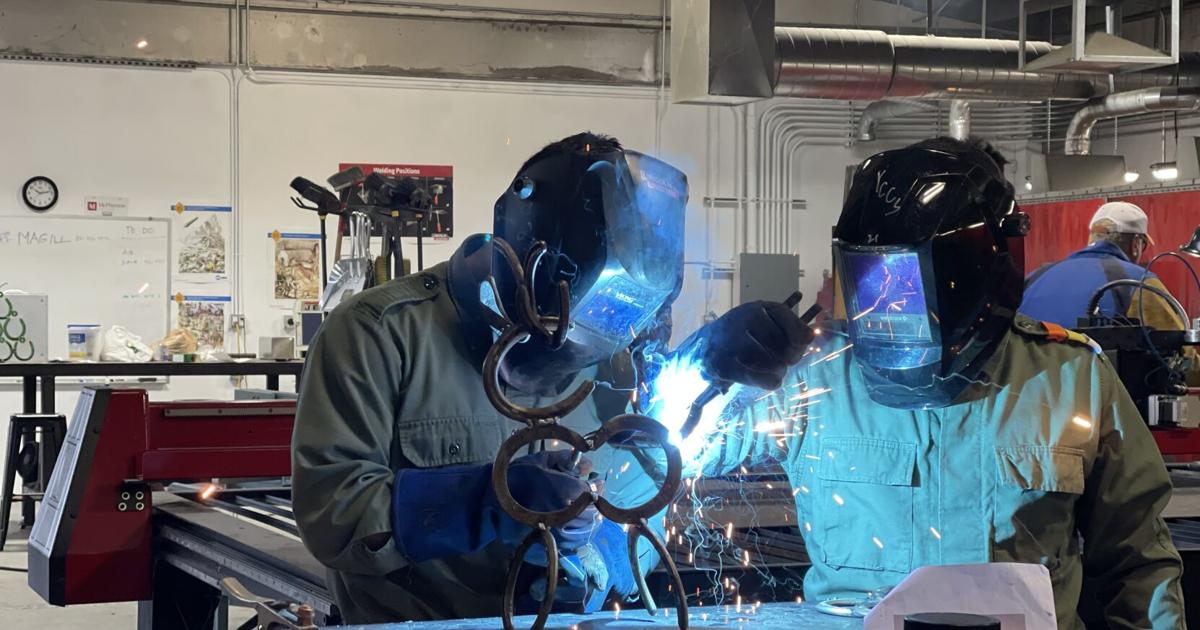 "They need tools to succeed" | News
At a Business Connection breakfast hosted by the Yuba-Sutter Chamber of Commerce on Friday in Marysville, local education officials discussed the importance of vocational technical education options that are and should be available to young people in the region.
Commonly referred to as CTE, vocational technical education is a vital option for students who may not see college as the way forward for them in their life and career after high school.
While CTE courses or options may not have been so readily available to area students before, education officials who spoke at Friday's event said it was something they had tackled and were looking to develop.
The panel speaking at Friday's event included Tawny Dotson, president of Yuba College; Francisco Reveles, superintendent of schools for the Yuba County Office of Education; Rinky Basi, director of Sutter County One Stop; Jami Larson, director of category programs for the Marysville Unified Coeducational School District; and Mark Mulliner, Local 228 Business Manager.
The main objective of the panel members who are deeply involved in CTE options for students emphasized that their goal is to ensure that students and young people stay in the region not only for further education, but also for their career.
"We are looking for different ways to better serve our students and the community," Basi said.
Reveles said he and the Yuba County Office of Education like to take a macro look at the CTE programs that are and can be made available to area students.
"Is it responsive and is it consistent," Reveles said. "How to put it together for the students? … We are working on a master plan. … There are problems with students leaving Yuba County. I believe we are reactive.
For CTE programs to succeed in schools, such as those in the Marysville Joint Unified School District (MJUSD), Larson said businesses will need to stay involved and be proactive in reaching a potential workforce of the future. She said one of those ways would be for the district to start a CTE bus tour program where students can step out of the classroom and see what's possible for them.
"Education is a shared opportunity to prepare our students for what's next," Larson said. "It's not your father's professional courses."
Dotson said Yuba College has a long history of offering CTE-related courses, with more than a third of students involved in related courses.
Because college has been such a priority for most families, panelists said CTE is needed more than ever to fill the gaps left by those who weren't always interested in what these types of programs could do. offer them.
"CTE is once again experiencing a resurgence in the state of California," Larson said.
She said CTE education is no longer in the background in the education system and the district offers nine different industry sectors for MJUSD students. She said others are beginning to see the importance of CTE in how the state measures the overall success of schools.
Larson again spoke about the importance of businesses getting involved in CTE education within area schools. She said business leaders have the ability to have more impact on a student's outlook than a teacher, bringing the voice of industry to a classroom.
"We need to open children's minds to what a good profession is," Larson said. "…We crave these partnerships."
Mulliner credited the state-passed legislation as a tremendous boost to what Local 228 can offer young people. He said mandates that required local workers played a big role in that.
"We can't put people to work without jobs," Mulliner said. "Without legislation, we wouldn't be able to do what we do. … We have to have the jobs.
Reveles said the goal of CTE education is to meet the needs of the business world. He said he wanted to foster those opportunities.
"It's an investment," Reveles said.
Informing students of available options was central to what MJUSD did, Larson said. She said they survey college students to find out what they might like as a real career option. Larson said you have to have this conversation at a young age.
"We let them know how much they can dream," she said.
While Dotson said she didn't think middle school students could necessarily know at that point exactly what they wanted to be when they grew up, she said it was important to reach out at that age. so that they "can be exposed" to what is possible. .
As the panel began taking questions from the audience at Friday's event, a local alumnus spoke about the need to engage with students. He made an impassioned appeal to education leaders to really listen to children and what their needs and wants are.
"These children have no idea what they want to do," said Anibal Robles.
Mulliner said it's important for schools to recognize which students aren't going to college and give them direction.
"You have to push them, focus on that area," he said. "…Schools really should be pointing kids in the right direction. They need tools to succeed.