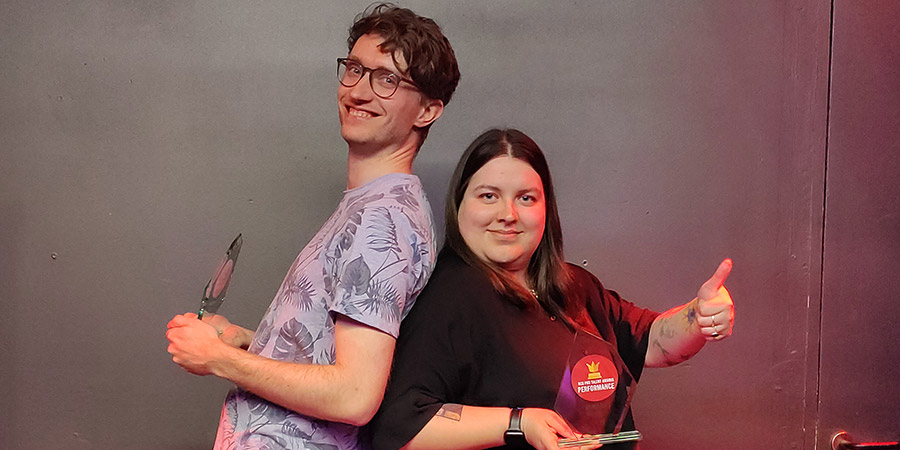 Justina Seselskaite Wins 2021 BCG Pro Performance Awards – News
Justina Seselskaite has been chosen as the winner of the 2021 BCG Pro Performance Awards
Adam Hopkins was previously announced as the winner in the Starter category
Hopkins performed in five acts in the Pro category for a live audience on Friday night
BCG Pro Talent Awards: 2021 Performance Winners. Image shows L-R: Adam Hopkins, Justina Seselskaite. Copyright : BCG
Justina Seselskaite has won the final of the BCG Pro Talent Awards: Performance 2021.
Justina is a new comedian based in Manchester. An immigrant from Lithuania, she tries to master the English language through comedy and has covered topics such as Facebook campaigns, her position as an immigrant and her relationship, with a refreshing twist.
The live finale took place last night (Friday March 25, 2022) at the Museum Of Comedy in London and was hosted by Stuart Goldsmith.
The other finalists were Coral Bevan (as Fisherman John), Dave Bibby, Amber Phillips and Hartley Pool.
To enter, comedians submitted videos via BCG Pro, British Comedy Guide's platform for comedy creators, with judges selecting the top five acts to perform live. Entries were made in 2021, but the final has been delayed so far due to the coronavirus.
The show also saw Adam Hopkins – who was chosen by the judges as the winner in the Starter category – performing a set in front of the packed crowd.
A stand-up and writer from Leeds, Hopkins began doing comedy while living in China and has performed in cities across Asia including Shanghai, Beijing, Hong Kong, Tokyo, Bangkok, Taipei and even Wuhan. He was second runner-up at the Bangkok International Comedy Competition in 2019 and performed on the regional stage at last year's BBC New Comedy Awards.
Upon learning he had won, he said: "I have struggled to get regular stage time and get my name out there since returning to the UK last August so I am very grateful."
The 2022 BCG Pro Talent Awards: Performance competition will open in August.