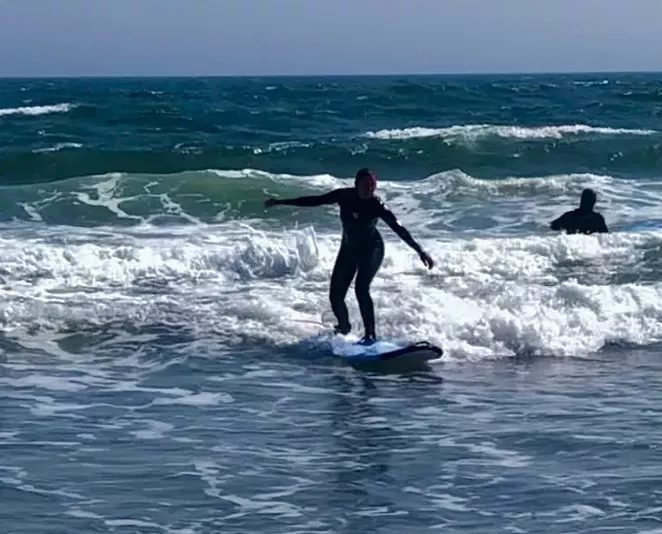 I suck at surfing, but I love it | Hot Summer Guide | Halifax, Nova Scotia
OWhen I woke up last Saturday, I had no idea that was the day I would try surfing for the first time. It all started with a text: My friend Isabella was hosting someone from out of town and she had booked a surf lesson in Lawrencetown. Would I like to sit at the beach with her while her guest, July-Ann, goes surfing? I don't have a car, so I jump at almost every chance to get to the beach, especially on a hot, sunny day like Saturday. I said yes.
I should have anticipated that when we got to Lawrencetown, my friend and I would be roped into the surf lesson. Isabella immediately got to work. I was more hesitant. There were only two places left, we were told. It's now or never. After slight peer pressure, I gave in. It was time to try surfing.
Putting on a wetsuit is a sport in itself. Carrying a surfboard onto the rocky beach is a similar test of willpower. I felt like we had already practiced before the lesson started. When we were finally prepped and in our place on the sand, our instructor Nate gave us the rundown. We learned the parts of the board, how to catch a wave – in theory – and some safety tips. He taught us how to pop up – moving from a fluid motion from prone to standing up – and we practiced on land.
Trying to get up on solid ground, I stumbled. I should mention that I have issues with my cerebellum, the center of the brain for balance and coordination. If anyone is biologically predetermined to suck at surfing, it's me. But damn it, it was time to get in the water.
The five of us in the lesson walked towards the big waves crashing in a straight line, holding our surfboards. My heart was beating. It was as if we were storming the beaches of Normandy, upside down.
The waves were close together that day making it difficult to catch one. After wading through the water for a bit, with Nate's help, I managed to flip the board, land on it like a fish, and row with all my might at the right time, catching my first wave. I lay on my stomach, but even still, racing toward the shore, propelled by the ocean, was exhilarating. I screamed. I could not believe it. When I hit the sand, I turned around and went straight back to the waves.
Click to enlarge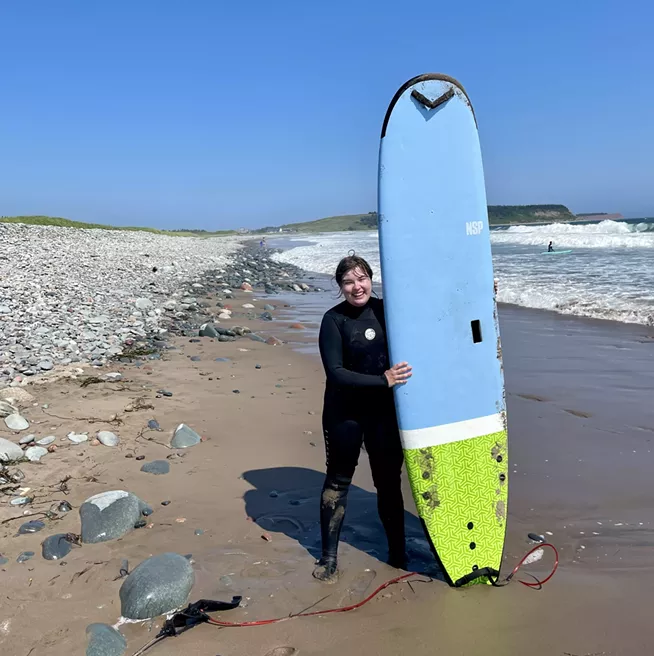 Back in April, I spoke to surf therapists about the healing power of the sport, and now I get it. It's not that surfing is necessarily relaxing, but when you're battling against the waves, just you against the ocean, all your other worries disappear. And the adrenaline rush of riding a wave is unbeatable.
Once the lesson was over, we were able to keep the equipment for the rest of the day to practice the things we had learned. I never managed to get up on set, but that's me. July-Ann appeared like a pro within hours. Isabella managed to surf on her knees. So if you're trying to surf, know that the level you'll be at in a day is different for everyone. It's completely normal to belly surf the first time, and it's just as much fun, I promise.
By the end of our surfing adventure, the three of us were exhausted, but in a good way. We listened to the Beach Boys all the way back to Halifax, proud of our new status as real surfers.
I felt accomplished, not because I could surf, but because I has tried surf. Stepping out of your comfort zone and trying something you never thought you could do, even if you weren't doing very well, is an incredible feeling. Conquering the mighty ocean is mighty. If you have any surfers in your life, they've definitely pushed you to try it. But take it from someone who is destined to suck at it: you should try surfing. You'll be glad you did.