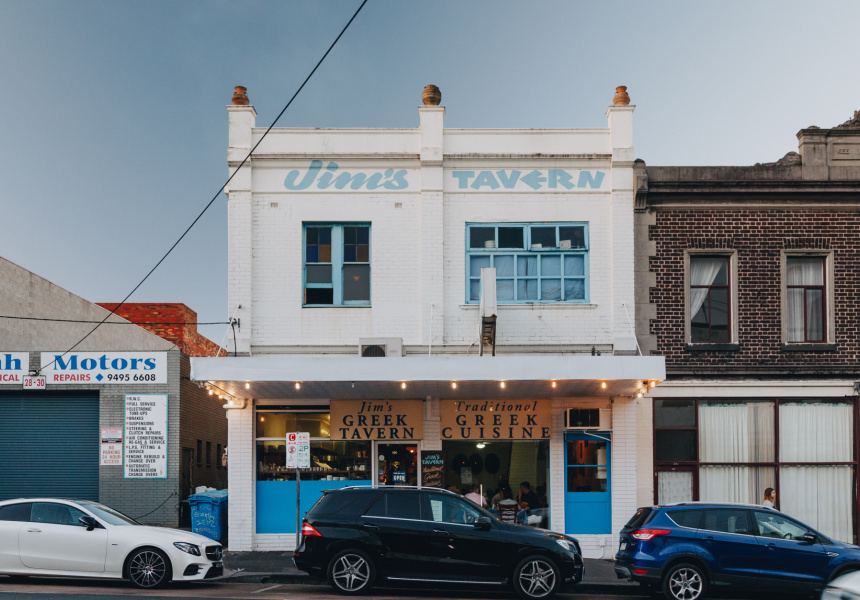 Eric Wareheim's Guide to Dining in Melbourne
Eric Wareheim spent 12 days in Melbourne.
That's 288 hours in which he managed to eat, drink — and document on Instagram — an impressive 78 dishes and 69 bottles of wine in 25 different locations. (I made a spreadsheet.)
This kind of dedication is something we applaud Large format so, naturally, we've broken down his grand food tour – stop by one excruciatingly delicious stop.
Wareheim — for those who haven't gone to the weird side of Youtube — is one half of American comedy duo Tim & Eric, known for their lo-fi brand of sketch comedy. He also featured in master of nothingthe Netflix comedy loosely based on the life of star Aziz Ansari.
At the very least, you'll recognize Wareheim from this ubiquitous "stunning" GIF:
Although he's best known for his comedy and acting, Wareheim came to town in March for the Melbourne Food & Wine Festival (MFWF) as he's also a food writer and does such a great job on casseroles. . He is also behind Las Jaras Wines, a joint project with Californian winemaker Joel Burt.
Here's a look at his moves:
Upon arriving in Melbourne, with his wife, Madison Borbély, Wareheim quickly heads to the Carlton North Florian cafe, declaring on Instagram: "I never do a brekkie, but when I'm down it's one of my favorite things." . The first object he cites is the most emblematic of Australian brunch culture: the flat white. We are no longer in Cali.
Without missing a beat, he heads for the "Paradise of Penang" that is Lulu's Char Koay Teow before having dinner at Miznon. There he has the first of many schnitties – this one stuffed with mashed potatoes. Wareheim says he was confused at first, but with "mustard and a spicy pickle, it really came to life."
The next day, another typical Melbourne breakfast, this time in Napier, with that cult anchovy toast. According to his wife Borbély, it's the "perfect" spot.
A pattern seems to emerge, as the next stop is for more noodles at Soi 38, which "every fucking drongo recommended". The order: khao soi, crab noodles and Thai laksa. Unfortunately, there are no photos of Wareheim, who is over two meters tall, perched on one of the tiny plastic stools.
Then, heading to Northcote for dinner, he hits up Gray and Gray for Georgian treats – "pickled and fermented and smoked and homemade", plus Ochota Barrels and Mac Forbes vino.
Next: Mauritian Manzé north of Melbourne, with whole barramundi, fermented octopus and coconut-peach corn pudding. "Truly a unique blend of African, Chinese, French and Indian inspirations," he writes. "I felt like I was stoned for life. Sick playlist too. Just an overall mind blowing experience.
After sharing his philosophy on chicken parm at MFWF's main stage, Wareheim heads to Embla for his takeover of Burnt Ends, followed by "delicious, honest food with no bullshit" at Jim's Greek Tavern.
The next day, Wareheim and Mike Bennie (acclaimed drinks editor and co-founder of Sydney's P&V Wine & Liquor Merchants) head to The Lincoln in Carlton to "prob the best schnitty and chips in city." Noted. To contrast the humble pub grub, Wareheim visited the institutions of Melbourne Flower Drum, Kenzan and later, France-Soir. He leaves a curious suggestion to all who dine there: "Ask for an 'apple juice', see what you find there". We're guessing it's not apple juice.
A quick pocket lunch at Brunswick's Very Good Falafel – and confirmation that it's "actually very, very good" – follows before Wareheim and Borbély descend on Hope St Radio, where they host a chef-prepared feast. Ellie Bouhadana and discuss with Bennie the intersection of punk rock and natural winemaking.
You'd think that – having completed their hosting duties – the couple could return home. But no, they go deep into Victorian wine country.
First stop is Eastern Peake Winery in Coghills Creek, then Bar Merenda in Daylesford. A trip to Daylesford Bakery for sauso rolls follows (man has range), before the wine tour continues: he visits Adam Foster of Syrahmi, Cobaw Ridge and Joshua Cooper at Stone Hills Farm, which, according to Wareheim, produces "a stunning chardonnay from [a] paradise of granitic soil with cool high altitude climate. This is truly a world class wine.
After a short, schnitty-filled stint at Tassie, Wareheim returns to Melbourne for a final victory lap. "I am very sad to leave this international food oasis," he proclaims. He visits Thi Le and Jia-Yen Lee's banh mi shop, Ca Com ("Who the hell makes a wood-fired banh mi bar? Got dang"), gets one last bowl of noodles at Dao Noodle ("the broth was so light and tasty and balanced. It reminded me of a Chinese version of a yuzu shio ramen broth") and ends with a real feast at Gimlet ("France and Australia and back").
By packing more exploration into a fortnight than many of us manage in months or even years, we raise a glass to this ridiculously packed journey through Melbourne and its environs.
Are we jealous? Perhaps.
Are we erasing our schedules? Absolutely.
@ericwareheim