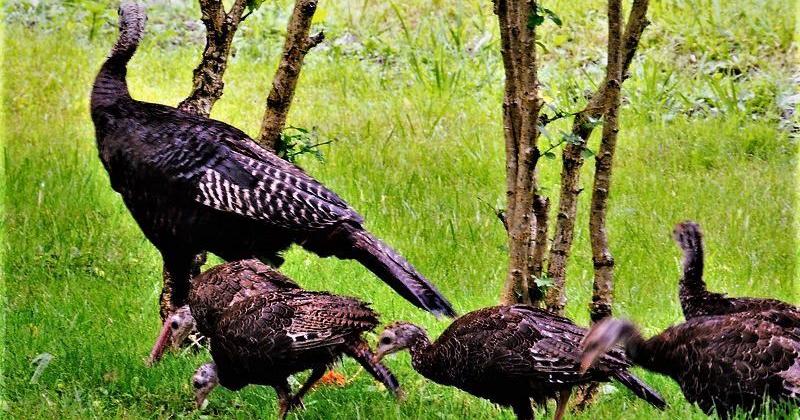 Contribution to Turkey survey requested; Online Fall Hunting Guide | New
Kentucky Wildlife Managers would appreciate it if you would step in and help compile the turkeys.
Throughout July and August, the Kentucky Department of Fish and Wildlife Resources collects wild turkey data from all kinds of sources, including the general public. Anyone who sees turkeys during this time can help handlers by sharing general information about what they see regarding turkeys all over the state.
The data collected through this survey gives KDFWR biologists a better understanding of wild turkey population trends and helps them make better decisions about management steps affecting turkeys.
Part of the turkey observations help managers calculate average survival rates for poults, i.e. young-of-the-year turkeys, by recording the number of poults observed with adult hens. The annual brood survey is essential for predicting future population trends.
Anyone who sees wild turkeys can contribute to the effort through the KDFWR website. Instructions for reporting turkey sightings and an online investigation portal are available at www.fw.ky.gov. On the site, a search for "turkey survey" will bring you to comprehensive information on the effort.
Another alternative is to find a printable survey form on the website, print it out, and fill it out. The form can be scanned or photographed on a smartphone and emailed to [email protected]
Wildlife managers and hunters have expressed concern over the apparent decline in turkey numbers in Kentucky and many other states as well. Managers say the decline appears to be dependent on poor brood survival, a factor that is currently under scrutiny.
So far, predation appears to be an important factor in low brood survival.
Hunters can't expect any changes to the fall turkey hunting seasons of either sex during the fall and winter of 2022-23, but managers and the Kentucky Fish & Wildlife Commission could being about to eliminate the crop of hens in future fall and winter seasons, eliminating either- sex hunt.
Hunters captured a total of 26,862 birds during this year's spring season, from April 16 to May 8.
The number of turkeys recorded through the Telecheck reporting system was the smallest spring harvest in 15 years, the lowest since hunters harvested 24,320 in 2-
The spring harvest was much lower than the previous year, 29,196 in 2021.
Bad weather is believed to have reduced hunter success, gobbler participation and harvest, particularly at the start of the last spring season. However, fewer turkey sightings, the result of a lower population, were blamed for much of the slowdown.
The Kentucky Hunt and Trap Guide, the all-inclusive hunter's playbook for the fall hunt and beyond the 2022-23 hunting year, is now available online.
The guide, containing season dates, regulations and all practical details for the full range of fall and winter hunting, can be found on the Kentucky Department of Fish & Wildlife Resources website, www. fw.ky.gov.
A printed version of the guide is forthcoming, expected to ship to licensing outlets and county court clerk's offices statewide just after August 1.
The 2022-2023 guide contains information on maintaining the chronic wasting disease surveillance zone that will be in effect for deer hunters in the western Kentucky counties of Calloway, Graves, Marshall, Fulton, and Hickman .
Hunters in those counties were placed under special restrictions in 2021 after a white-tailed doe was identified with CWD in Humphreys County, Tennessee.
Parts of these five Kentucky counties were within 30 miles of where the infected doe was taken, the closest CWD find to Kentucky's borders to date.
No CWD has been detected in Kentucky before or since the zone was established, but accompanying special monitoring will continue through the 2002-23 hunting seasons.
The hunting guide outlines chronic wasting disease restrictions in the five county area, including no baiting of deer during hunting seasons as well as no feeding of grain or blocks of salt or minerals. (Legitimate farming practices and planted food plots are permitted, as are bird feeders in residence yards.)
Within the area, deer captured during parts of the modern firearms season must be registered at designated checkpoints.
This year there will be 13 checkpoints in the area which will be open and require deer to be checked from Saturday to Monday from November 12 to 14 when the modern weapons season opens, then on Saturday and Sunday from second and third weekends in gun season.
The hunting guide lists the 13 checkpoints in the area.
It also details a number of sample collection sites throughout the state where hunters can voluntarily take their deer to be tested for the presence of chronic wasting disease.
One rule that will affect many successful hunters in the lookout area is that no whole deer carcasses may be removed from the area.
A whole deer harvested in one of the five counties can only be transported within the zone.
Since CWD is caused by abnormal proteins called prions that are associated with the brain, spinal cord material and lymph nodes of deer, any deer sampled as part of surveillance
area should be reduced to boneless meat from the carcass. Antlers can be taken out on cleansed skull caps, but no brain material and certainly no whole heads are allowed.
Any deer caught in the lookout area, including archery and crossbow outside of shooting seasons, must be tagged before being removed from the field. Hunter-made tags must show the hunter's name, address and phone number, the deer's sex, date and county in which it was captured, and the Telecheck confirmation number. Thus, the telecontrol must be carried out before moving the carcass.
In addition to CWD monitoring, but still related to deer hunting, the new hunting guide notes a change in the firearms (shotgun/muzzleloader) hunting quota in the CWD management area. western Kentucky this year.
The Quota Hunt from November 19-22 will offer 60 slots for hunters to apply for. Only sectors 1 and 6 of the WKWMA will be open to deer hunters.
The Land Between the Lakes Woodland Nature Station is hosting its annual Cool Critters Day from 10 a.m. to 4 p.m. today with a full schedule of animal programs, exhibits, and creature encounters.
The activities are kid friendly but informative and suitable for all ages.
A variety of live displays will showcase a range of subjects from creepy crawlers to larger creatures.
Admission to the special event is $9 for ages 18 and older, $7 for ages 5-17, and free for young children.