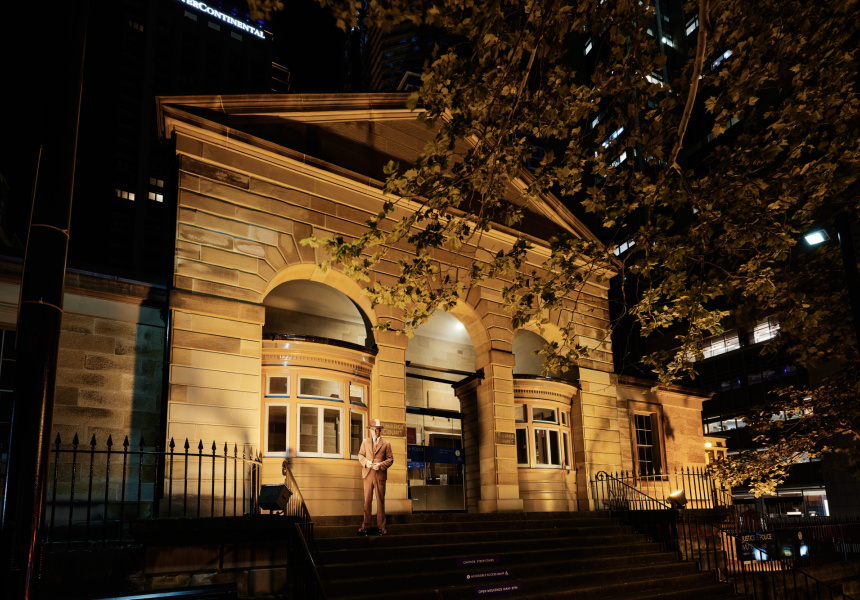 A Guide to the Sydney Living Museums Devilish After Dark Program
Sydney has a rather sordid history, which you wouldn't necessarily expect to see represented in a museum.
As part of the Sydney Living Museums After Dark series, the Justice & Police Museum presents an eight-week adults-only program that takes a lively look at everything from the city's history with devious figures of grog and femme fatales, criminal photography, censorship and freedom of expression.
Every Friday night from 5-8 p.m. there will be guest speakers, artists, performers and filmmakers alongside interactive experiences like tarot card readings and life drawings. You'll also have after-hours access to the museum and its fascinating exhibits. Plus, if all the talk of illegal toddy makes you thirsty, there's a (legal) bar on site.
Here's what's coming.
Sly Grog: Razor Gangs: Friday, May 6
The First World War imposed strict limits on alcohol sales, opening the door for infamous Sydney criminals like Kate Leigh and Phil Jeffs to enrich themselves selling "sneaky grog". At this event, you'll enjoy a cocktail upon arrival, then join journalist Larry Writer, author of Shaveras it introduces you to the devious groggers and razor gangs of Sydney nearly a century ago.
Witches, criminals and the femme fatale: Friday, May 13
Black Friday focuses on Rosaleen Norton, the controversial artist, bohemian and occultist whose interest in "sex magick" has scandalized Sydney. The evening includes floor talks, interactive experiences and a screening of the documentary The Witch of Kings Cross (2020), including a Q&A session with its award-winning screenwriter and director, Sonia Bible, hosted by Sunil Badami.
Crime on Film: Forensic and Police Photography: Friday, May 20
Sydney Living Museums curator Holly Schulte will guide you through the NSW Police Forensic Photographic Archive, a remarkable window into the past with around 130,000 negatives taken by police photographers. As you explore the world of forensic photography, you can also dress up and have your own mugshot taken – well, a souvenir Polaroid photo.
(Un)censored: Sex and Obscenity: Friday, May 27
Things get a little dicey as museum experts share stories of collectibles once considered too shocking for the public. A panel of experts will explore the changing nature of obscenity and the role of censorship in society, then it's time to visit the bar and have a drink while listening to songs once deemed too gross for the radio.
Outsiders: Friday, June 3
Join author Dr Rachel Franks and host Sunil Badami as they discuss Sydney's ultimate underdog, public tormentor Robert "Nosey Bob" Howard. There will be tarot card readings into the night, as well as floor talks telling the story of poisonous husband Louisa Collins, who swung at the end of Nosy Bob's noose in 1889.
Bordellos and Bruisers: Friday, June 10
Crime historian and storyteller Max Burns-McRuvie will bring to life the sensational stories behind Sydney's brothels and murderers of the 1920s and 1930s. Expect an evening of cocktails and stories about colorful criminal careers (and fierce) of the past.
The Fatal Woman: Friday, June 17
The sassy femme fatale stereotype is on full display in this exploration of female crime, with a few performances to spice things up between floor talks and drinks at the on-site bar.
Drag: Friday, June 24
Celebrating the 44th anniversary of Sydney's very first Mardi Gras in 1978, the city's fascinating history is the theme for the final evening. You'll hear the stories behind some of the museum's most striking images of female impersonators, learn about legendary '40s burlesque impersonator Lea Sonia, and there will be drag-inspired life drawings alongside drag performances throughout the evening.
After Dark will run every Friday night through May and June 2022 from 5-8 p.m. Book your tickets here.
This article is produced by Broadsheet in partnership with Sydney Living Museums.